Ponto(e) de partida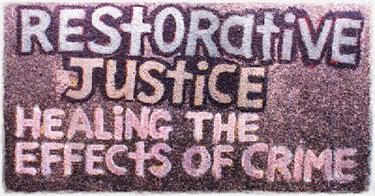 Algumas referências conceptuais:
Restorative Justice
(RJ) is a process whereby all the parties with a stake in a particular offence come together to resolve collectively how to deal with the aftermath of the offence and its implications for the future.
[1]
Modelos de Práticas Restaurativas:Victim-offender mediation
- any process whereby the victim and the offender are enabled, if they freely consent, to participate actively in the resolution of matters arising from the crime through the help of an impartial third party (mediator).
[2]
Victim-offender mediation can be done both in direct and indirect ways.
Family group conferencing
- this process brings together the victim, offender, family, friends and key supporters of both, and possibly representatives of agencies, e.g. social services and probation, in deciding how to address the aftermath of the crime. The meeting is facilitated by an independent facilitator; in some models, after all views have been stated, the family have a private meeting time to draw up a plan which is submitted to the whole conference for acceptance.
[3]
Community conferencing
- a term mainly used for a process similar to the Family Group Conferencing, for adult offenders. In some places there are procedural variations, for example the facilitator is a police officer, the facilitator may follow a prescribed script, victims may also be encouraged to bring their extended families and supporters, and there may be no private time: all parties remain in the room throughout.
[4]
Sentencing circles
(também conhecidos como
"peacemaking circles")
- this is a community directed process designed to develop consensus among community member, victims, victim supporters, offender, offender supporters, judges, prosecutors, defence counsel, police and court workers on an appropriate sentencing plan that addresses the concerns of all interested parties.
[5]
Restorative cautioning
- a process pioneered in the UK by the Thames Valley Police. It uses the family group conference method to caution offenders for a wide variety of criminal offences. Since 1998 all cautions, reprimands and final warnings have used a restorative conference approach.
[6]
The offender is encouraged to think about the effects of his or her actions on the victim, but the victim is not present.
Restorative conferencing
- this normally accompanies a warning similar to a restorative caution, but supporters, as well as victim and offender, meet together in a conference with a trained facilitator. Outcome agreements set out what the offender will do to address the harm done. Reparation and also involvement in a rehabilitative programme – to address the underlying causes of offending behaviour – may be agreed.
[7]
[1]
Marshall, T. Restorative justice: An overview, 1999; Restorative Justice Handbook, issued by the UN Alliance of NGOs on Crime Prevention and Criminal Justice's Working Party on Restorative Justice in July 1998.
[2]
Adaptado de Recommendation No R /99/ 19 of the Committee of Ministers of the Council of Europe on mediation in penal matters
[3]
Adaptado de
http://www.restorativejustice.org
; http://www.youth-justice-board.gov.uk/PractitionersPortal/PreventionAndInterventions/RestorativeJustice
[4]
http://www.restorativejustice.org.uk/glossary.html#fgc
[5]
Restorative Justice: the Government's Strategy, July 2003- Glossary; http://www.restorativejustice.org
[6]
http://www.restorativejustice.org.uk/glossary.html#fgc
[7]
http://www.youth-justice-board.gov.uk/PractitionersPortal/PreventionAndInterventions/RestorativeJustice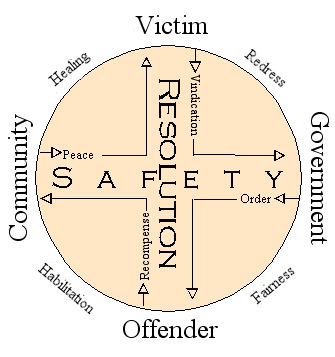 Onde e como poderemos introduzir estes conceitos?
Eis o desafio.
SSP