Repositioning Restorative Justice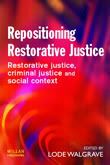 This book, based on papers presented at the 5th international conference held at Leuven, Belgium in 2002, aims to provide an overview of recent experience of restorative justice in the light of these concerns. The central theme is the positioning, or repositioning, of restorative justice in contexts where it can offer hope to communities both fearful of crime and looking for more socially constructive responses to crime. At the same time restorative justice practitioners seek definition in relation to the kinds of crime it is appropriate to apply restorative justice to, how it relates to different forms of punishment, to rehabilitation, and how it fits in with criminal justice systems and the law of different countries -- how to reconcile the informal, participatory philosophy of restorative justice with formal legal processes and the need for legal safeguards.
Mais detalhes e possibilidade de encomenda
aqui
.

SSP